The Margaret River Wine Region juts out from the Australian coastline for more than 80 miles and stretches inland for another 20. It is a place of abundance – a playground with stunning beaches and more than 50 surf spots. It is a pantry where something delicious is being put before you wherever you go. The best way to explore Margaret River is by car.
Bunbury is a great place to break the 3 ½ hour drive from Perth. The incredible lighthouse, beaches, and laid-back lifestyle here is just a taste of what is to come. Busselton is 40 minutes further down the highway. The wooden jetty in the harbor town is its jewel. The jetty was first constructed in 1865 and has endured cyclones and fires, and is one of the most unique dive sites in Australia today. There is a descent to The Underwater Observatory at the far end of the jetty. It is a great place to experience the aquatic life thriving amid the pylons in the jetty.
Caves Road is one of the most scenic drives in Australia and it gets its name from the limestone caves surrounding this region. Mammoth Cave is one of the most accessible. This road turns inland through historic timber towns and picturesque villages, before arriving at the main settlement of the region, Margaret River.
Enjoying almost rain-free summers and surrounded by coasts on all sides, Margaret River as a wine-growing region has been compared to the famous Bordeaux region in France. Cruise from one cellar door to another, sampling some of the most exciting Cabernet Sauvignon, Shiraz, and Chardonnays in the world.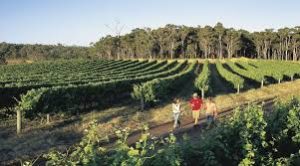 At the northern end of Margaret River is Cape Naturaliste. This headland is surrounded by secluded spots, like Meelup Beach, Eagle Bay, and Bunker Bay. There are lookout points around the lighthouse between June and December that make this cape a great place to spot watch whales.
Cape Naturaliste marks the beginning of the most beautiful walking trails in Australia, the Cape to Cape track. This track follows cliff tops and beaches, and string many places together. Many of these places still keep their original names. The southern end of the Margaret River is marked by the Cape Leeuwin Lighthouse, where the waves of the Southern and Indian oceans meet below.
Margaret River region is a rare destination that is a feast for all the senses, with sights and sounds as well as tastes and touches you will always savor for the rest of your life.